Polymerised toner for superior image quality
Compared to conventional toner,Konica Minolta's Simitri HD polymerised toner uses smaller, more uniform particles. Small text is sharp, while gradations and solid black are beautifully reproduced.

Choice of 3 image quality modes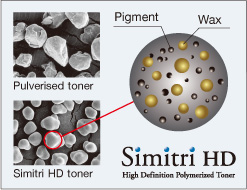 Select the mode that matches the type of document – text, text/photos, photos.
In text mode, text is reproduced sharply, while in photo mode, it is possible to reproduce extremely fine gradations. The mixed text/photo mode is ideal for the high-quality reproduction of business documents.
Comparison of pulverised toner and Simitri HD toner(internal test)