Embrace Sustainability
To
Enhance Agility
Sustainability is the fifth imperative companies have faced since World War II. But, unlike the four preceding imperatives, sustainability requires companies change both how they create value and for whom they create value. The good news for companies? Embracing sustainability can lead to an unexpected and long-lasting benefit: enhanced agility.
– Eric Lowitt
Wouldn't you agree that Konica Minolta's focus on the environment proves we deserve to partner with your business?
Are you ready to implement the innovative technologies that Konica Minolta offers?
Konica Minolta's exclusive energy saving technology leads the industry. When do you want to start saving energy?
Can you see how your employees will love the switch to the green benefits of bizhub MFPs?
[expand title="Konica Minolta 360
0
Approach to Environmental Sustainability"]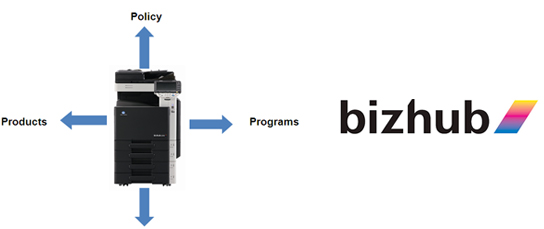 [/expand] [expand title="Konica Minolta Green Factory Certification Systems"]
To achieve certification the Factory must surpass standards in 3 critical areas:
– Reduce Greenhouse gasses
– Recycling
– Chemical substance control
[/expand] [expand title="Konica Minolta Environmental Certifications Received"]

[/expand] [expand title="Konica Minolta Toner Bottle Recycling"]
– All Konica Minolta toner bottles are made of HDPE, or High Density Polyethylene — identified by the Society of the Plastics Industry (SPI) as one of the two types of plastics that can be recycled most economically.
– These toner bottles are designed to be collected and recycled at local facilities, reducing fuel and gas required by shipping
[/expand] [expand title="Konica Minolta Go Green program"]

[/expand] [expand title="Konica Minolta Benefit Of Simitri"]
– Simitri HD+ polymerized toner is
produced by an environmentally-
friendly manufacturing process
– Process emits approx. 40% less
CO2, NOx and SOx than
conventional toner manufacturing
processes
[/expand] [expand title="Konica Minolta Induction Heating Technology"]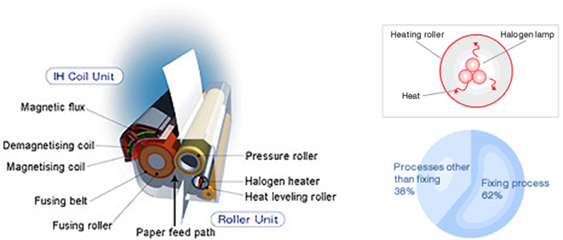 [/expand] [expand title="Bizhub MFPs Designed With Recycling In Mind"]
– Plastic parts are made of recycled materials where possible.
– All plastic parts are marked to indicate the type of resin used.
– Labels that leave no adhesive residue are used.
– To simplify recycling, parts are designed so that they can be
[/expand] [expand title="Bizhub MFPs Mean Lower Utility Bills"]
– 45 PPM – Engine Energy Star Standard Value of 10.3 kWH/w
– 55 PPM – Engine Energy Star Standard Value of 21.4 kWH/w
– 65 PPM – Engine Energy Star Standard Value of 27.0 kWH/w
[/expand] [expand title="Use of Organic Photoconductor Technology"]
Since 1938, original copiers used a photoconductor (drum) that was coated with arsenic and selenium, two very toxic substances
All manufacturers now use this technology
– with exception of Kyocera (ASi – ceramic)

[/expand]